Auto Body Shop Insurance in Los Angeles, California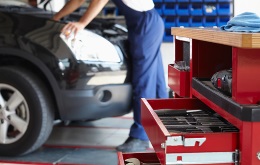 An auto body and repair shop are a rewarding business that allows you to interact with customers daily. Working with customers and the customer's property regularly can put your business at risk when problems arise. By setting up the appropriate types of Auto Body Shop Insurance also known as Garage Insurance, you can take steps to minimize potential risks and problems along the way.
Types of Auto Body Shop coverages include:
General and Umbrella Liability
Auto and Fleet Liability
Property/Cargo Insurance
Crime Insurance
Workers' Comp
Auto Body Shop Insurance Coverages in Los Angeles, California
Eligible auto service risks (non-dealer operations) include repair shops with tune-ups, breaks, transmission, lube & oil, auto body, glass and engine repair, detail, and similar types of operations, such as following business types:
Service stations
Convenience stores selling gas
Car washes including 24/7 operations
Auto service centers
Full service gas stations
Car wash and detailing
Self Service gas stations with mini-mart
Trailer repair - boat and/or utility
Transmission, muffler, and brake shops
Truck repair (Light and medium duty vehicles)
Quick change lube shops Auto body/collision repairAuto glass repair/installation Brake shopsMuffler shops
Retail auto parts and accessories stores - new parts only
Auto quick lube shops (oil and lube)
Retail tire stores - new tires; no used tire installation
Auto repair or service shops including:
General automotive repair
Auto body & collision repair
Retail tire stores
Auto parts & accessories stores (new parts)
Oil & lube shops
Brake, transmission and muffler shops
Auto glass repair/installation
Vehicle sound/alarm system installation
Key COVERAGES
• Garage and General Liability - Mechanics E&O
Employee Benefits liability
• Business Income and Extra Expense – Actual Loss Sustained
• Equipment Breakdown Protection
• Building and Business Personal Property - No coinsurance provision
• Limited Discrimination Coverage option
• Crime – employee dishonesty, forgery or alteration, money and securities
• Business auto liability and physical damage
• Garage keeper's liability (direct or legal liability basis) - Blanket Waiver of Subrogation available
• Umbrella liability limits up to $5 million
$750 minimum premium
Keep in mind also that you may need separate coverage for your commercial auto's, workers compensation and group employee benefits like health and life insurance. Let one of our auto body shop insurance specialists find the right coverage for you today. Contact us to find out more about auto service insurance in Los Angeles California including the Los Angeles, Orange County, San Francisco, San Jose, and Sherman Oaks areas.