Los Angeles, California Business Owners Policy
At Casurance Agency Insurance Service, LLC, we provide comprehensive Business Owners Policy (BOP) insurance to many businesses in Los Angeles and throughout the state of California. A BOP combines all different coverages into one policy to protect your small to medium-size business assets.
We are making small business insurance hassle-free.
Getting small business insurance can be hard. We make
it easy. Instead of requiring hundreds of questions, our platform does
all the hard work to deliver insurance in minutes, not days or weeks.
Business owner's policy (BOP) is designed specifically for small businesses. With broad protection for property and liability exposures.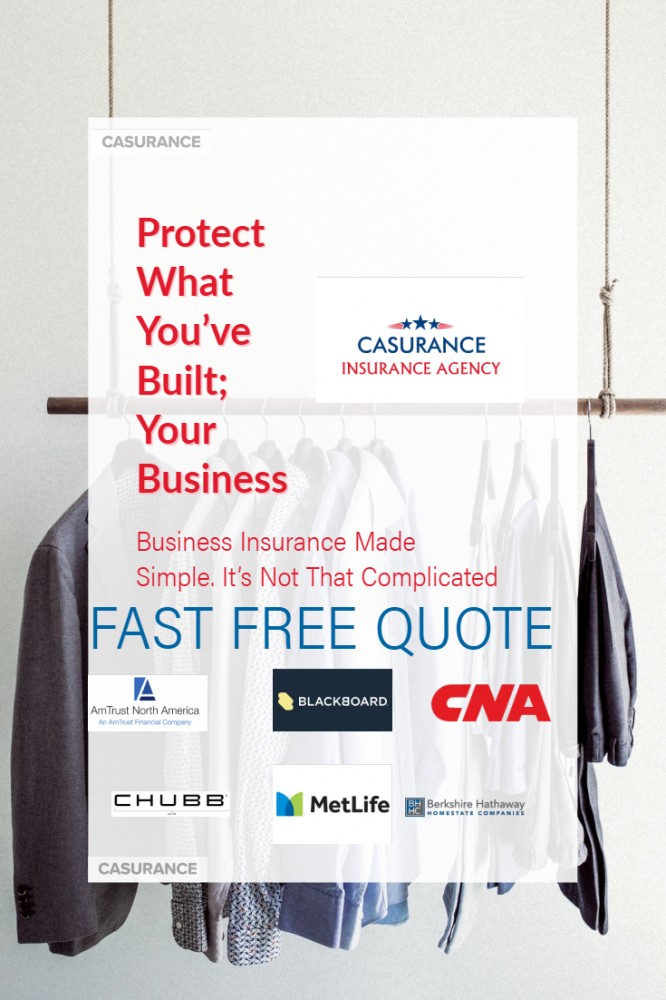 Businessowners' Policies (BOP) and Commercial Liability
Excess Policies available in minutes
• Troublesome underwriting questions and ACORD applications
are replaced with external data

— Service Contractors, Offices, Restaurants, Retail, Services, Wholesale
— Lessor's Risk is available
We can tailor a package to fit the needs of your industry. Many industries have specialized packages for their business owners policies. At Casurance Agency Insurance Service, LLC, we can evaluate the needs of your industry and give a customized option that covers your needs and is specific to your industry.
Business Owners Policies
Property coverage - protecting your building and contents that are owned by the company.
Liability protection - covering the company's products or operations that may result in the damage or injury to another.
Business Interruption - this protects your company from fire or other accident that may result in loss of income or operation of the company
Umbrella Insurance
Workers Compensation Available with Bundle
Commercial Auto Available
EPLI Coverage
Other coverages - may include equipment breakdown, crime, liability, signage
Keep in mind also that you need separate coverage for your commercial auto's, workers compensation and group employee benefits like health and life insurance. Let one of our business owners policies specialists find the right coverage for you today. Contact us to find out more about Business Owners policies in Los Angeles California including the Los Angeles, Orange County, San Francisco, San Jose, and Sherman Oaks areas.

BUSINESS OWNER'S POLICY Request a Quote!


BOP helps protect small business owners with up to $30M in revenue, in more than 500 business classes across the following industries: • Clubs and associations • Cultural institutions • Financial services • Healthcare • Life sciences • Real estate • Retail stores • Service businesses • Technology • Wholesale businesses, Grocery Store Insurance, Supermarket Insruance, Retail Store Insurance, Electronic Store insurance, Cell Phone Store Insurance, Store Insurance, Commerical Insurance
We offer a Total Account Solution
Total Account Solution Building a portfolio with Casurance means broad, state-of-the-art insurance protection all in one place. Add supporting insurance products to a BOP policy for the complete insurance solution your clients want. Umbrella: Umbrella insurance from Casurance provides an additional layer of coverage over existing liability policies, offering your small businesses even more protection. Workers' Compensation: Our workers' compensation policy provides small business owners with a broad insurance solution to help protect them and their employees should an injury or illness occur on the job. Casurance provides more than just excellent coverage, we provide world-class claims service and peace of mind that comes with being a insured. Commercial Auto: Casurance commercial auto policy includes personal injury protection, uninsured and underinsured motorist coverage limits up to $1M as well as endorsements that include additional coverages where available. Management and Professional Liability: ForeFront Portfolio suite provides additional management and professional liability insurance including employment practices, crime, and cyber liability. Cyber Enterprise Risk Management (ERM)/DigiTech® ERM: Using a threeprong approach, Cyber ERM and DigiTech ERM incorporate risk transfer, loss mitigation services, and post-incident services to help prote
• Clubs and associations
• Cultural institutions
• Financial services
• Healthcare
• Life sciences
• Real estate
• Retail stores
• Service businesses
• Technology
• Wholesale businesses
Grocery Stores, Gas Stations, Liquor Stores, Supermarkets, Cell Phone Stores, Metro PCS Authorized Retailors, T-Mobile Retailors, Verizon Retailors, Sprint Retailors. Get your GL, Workers Comp, Umbrella Coverage here.
and many more other classifications.